Introduction:
Here is the Canon R7 and R10 review here. We're here with the canon EOS R10. One of the latest aps-c cameras with a mile from the brand itself. So It's very similar to the R7 another model that was launched together with this. So, today we're going to compare the two to see, which one might suit your photography style better. We're going to talk about its features and the price point. and how much shooting experience with it was like.
Difference between R7 and the R10?
R7 and the R10 look quite identical at a glance, but there's more difference than meets the eye. So, the R7 is a slightly more advanced model that's catered for wildlife and sports photography mean while the R10 that I have here is a lot more compact. and it's really designed for daily shooting. It's an entry-level camera that anyone can pick up and just start shooting at any time. If you can't decide which camera suits your needs better here's a very quick comparison. Meanwhile, the R10 weighs just 429 grams making it really lightweight for travel photography as well as street photography.
Similarities of that two cameras:
Canon R7 and R10- The fact that both of these cameras have some degree of weather protection is fantastic. The R7, however, takes a slight step ahead because it features a sports weather ceiling. This most likely indicates that you can use it outside to shoot a few even while it's lightly raining or drizzling. In other words, this safeguards the sensor while you switch lenses. Additionally, you discover a new, dedicated AF MF switch on the front plates of both cameras, just close to the grips. Here is a close-up of the LCD screen and viewfinder.
However, the R7 has a higher resolution than the R10 at 1.62 million and 1.04 million dots respectively aside from its weight the most significant difference between the two cameras is that the R10 comes with a 24-megapixel sensor. While the more advanced R7 has a 32.5-megapixel chip. That said both cameras have an ISO range of 100 to 32,000 with an extended 51 abd 200 mode. 
Favorite part of those camera?
For both people and animals, the camera is able to identify and detect. The head the eyes and the bodies. When it comes to cars and motorcycles, you can even prioritize focusing on the driver's helmet. In these two models, the AF tracking mode can be initiated from any selected AF zone.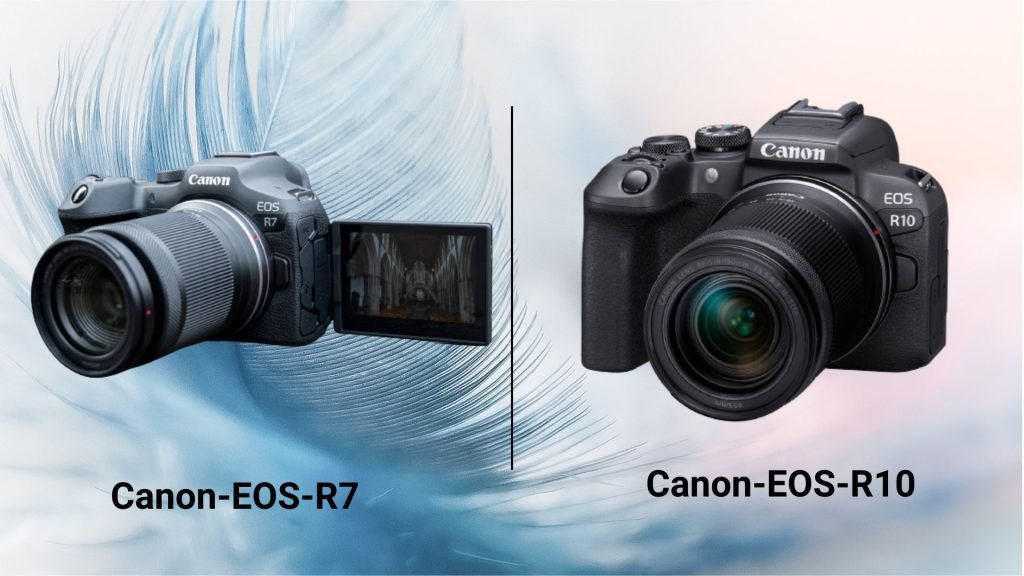 Difference between of Canon R7 and R10?
The R7 has more focal points than the R10 as a result of having more pixels than the R10. However, when tracking is enabled, both cameras operate with the same number of focal points. Moving on to the shutter and shooting speed, the R7 can operate for up to 18,000 seconds when using a mechanical shutter. While the R10 can shoot continuously for up to 14,000 seconds, both cameras can shoot continuously at up to 15 frames per second using a mechanical shutter. They are therefore excellent for action photography. The R7, on the other hand, goes a step further by using the electronic shutter to achieve 30 fps. Pre-shooting mode is a standout feature of both cameras. As a result, you are now able to begin recording roughly 0.5 seconds before fully depressing the shutter button. Because it made it possible for me to record moments that I otherwise would not have been able to, I absolutely adore this feature.
Image stabilization of Canon R7 and R10-
Let's talk about the image stabilization for Canon R10, there's lens bass and digital image stabilization when you're using the movie mode. Whereas the R7 offers in-body image stabilization up to eight stops and digital image stabilization in movie mode. When shooting fast-moving subjects, I found that the R7 had a much faster reaction time compared to the R10 with the latter having a bit more motion blur, which I noticed most prominently, when I was shooting some soccer players on the field although both cameras are designed for stills rather than videos. They offer basic video functions including 4k capture at 60 frames per second 120 fps at full HD and even optional in-camera 10-bit 4×2 by 2 color capture. One noticeable part is that the R7 is able to shoot at 4k 60p without any image cropping, whereas the R10 has about a 64 crop at 4k 60p. Although the R10 lacks the headphone jack you can always get an add-on with an accessory. 
Battery and Cards of Canon R7 and R10-
let's compare the battery and cards used by these two cameras for the R7, it used the same batteries as canon's full-frame bodies. Whereas the R10 uses the same batteries as the smaller EOS m series. If a long battery life matters a lot to you then the R7 is a much better choice with twice the amount of battery life as the R10. how long the battery life lasts for each camera also depends largely on whether you're shooting with the viewfinder or the rear screen. Whether you use the power saving mode or whether you choose to boost the refresh rate in the smoothness priority mode. The R7 has twin card slots that sit behind their own door right, next to the battery. So, this makes it really easy for you to remove and insert the cards. Whereas the R10 has a much smaller card slot that squeezes right next to the battery, I found that it does stay a bit getting used to just popping the card in and out of the camera. Onto our verdict you've seen what the R10 and R7 can do.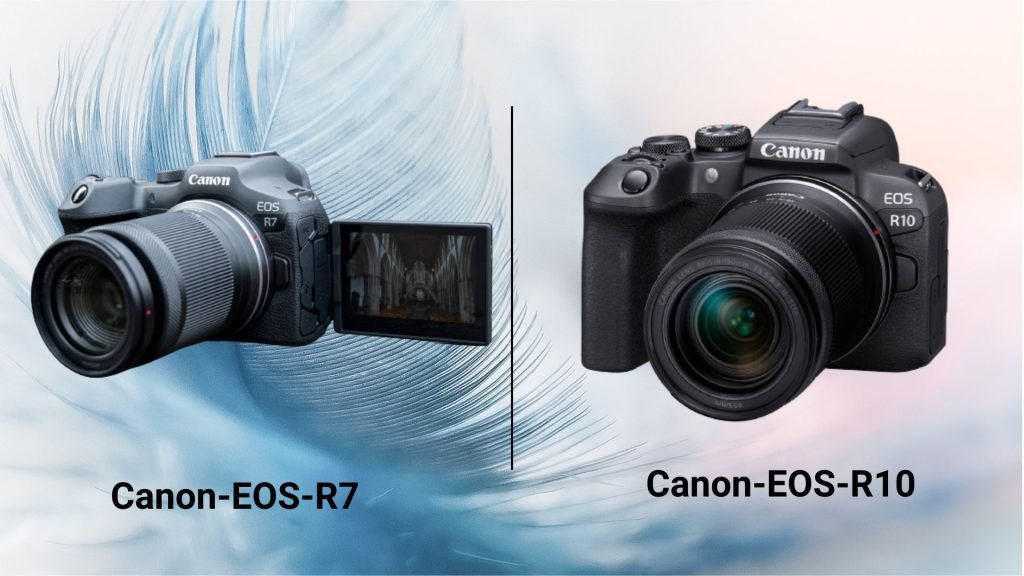 which camera is right for you?
Canon R7 and R10- If you're eyeing something that's more for entry-level photographers, then the small and lightweight R10 might be a great choice. Great for content creators' frequent travelers or even just for daily use, the R10 has got enough functions to make sure that you get great photos in most shooting conditions.
But if you're willing to splash out about 700 sign dollars more, then the R7 might be a better choice. It's approachable enough for newbies to photography and it's also got really solid specs. If you're a seasoned photographer. The R7 is a great camera that takes photography beyond what your smartphone could do. So, it's got a very sturdy but not too heavy body and what I like about it is that the burst shooting modes make it really great for wildlife sports photography. If you're looking to delve into that for the first time, then perhaps go for the R7 having tried out both the R7 and the R10 I would say my choice is the R7. If budget is your concern then go for the R10, which works just as well for daily shooting.
Hope you enjoy it.
Others-
Apple iPhone 15 Pro Max specifications.
Apple iPhone 15 Ultra specifications.
Apple iPhone 15 Pro specifications.
Apple iPhone 15 specifications.
Infinix Hot 12 Play specifications.
OnePlus Ace Pro Genshin Impact specifications.