Oppo Find X6 Pro
Oppo Find X6 Pro is finally here and while it remains a China exclusive for the time being. This is Oppo's best Flagship ever made and may very well be the best smartphone that I have ever had the privilege of testing. Oppo have done something insane with their cameras this time around with three 50 megapixel sensors, including an ultra wide camera a one inch type sensor main camera and the largest Periscope sensor ever seen on a smartphone.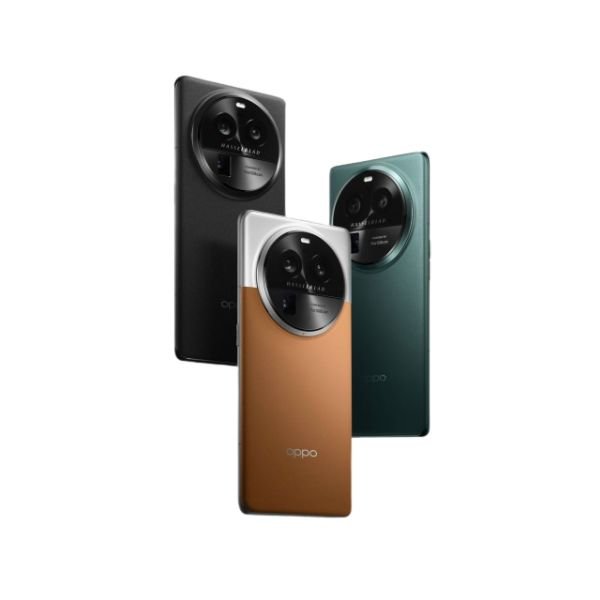 They have left nothing out the box for this guy. You get a premium leather feeling hard shell case a charging cable and a 100 watt charging brick. The Oppo Find X6 Pro. As mentioned at the start it's still uncertain whether or not the Oppo Find X6 Pro will make its way to the international markets but it literally just got announced in China, so we'll have to wait and see what happens. I received the phone quite early on so I'm not quite sure on pricing yet but make sure you check the comment section down below.
As I'll port the Chinese prices over there but if it does come to the global markets you can expect it to be a little bit more expensive than domestic pricing. Oppo Find X6 Pro has a refresh design this year with a massive circular camera module largely inspired by DSLR camera lenses and luxury watches.
The camera module has a stunning dual tone finish with all the necessary branding and the lens cover is made of high strength glass and aluminum. Which is both drop and corrosion resistant not to mention there is also a stainless steel ring wrapping around the module the empty space next to the Periscope sensor is needed since it's used to house the rest of the world's largest Periscope lens and the phone comes in three different color options.
You can pick it up in the green color that I have or in Black both of which are made from anti-glare gloss with gorilla glass 5 protection on their backs. But if you would prefer a more classical look. There's always the brown color variant. Which is made up of vegan leather and metal like gloss materials.
It's also the only one with the signature Hasselblad orange dots at the bottom of its camera ring. However the brown variant is slightly thicker and heavier than the other or glass color versions. Otherwise everything else is the same all three colors have aluminum frames. They are all ip68 dust and water resistance and they all have Gorilla glass Victus 2 protection on their front planes.
The Oppo Find X6 Pro also features a new larger display this time. It's a 6.82 inch 1 to 120 hertz Itpo 3.0 AMOLED display with a pixel popping QHD plus resolution that packs in 510 pixels per inch. It's a 10 bit billion color bionic display that supports Dolby Vision, HDR 10, HDR 10 plus, and white Vine are one. Oppo Find X6 Pro also packs in a 240Hz touch sampling rate 1440 Hertz pwm dimming and most importantly packs in a peak brightness of 2500 nits. Which makes it the brightest smartphone screen on the planet.
When it comes to software the Oppo Find X6 Pro makes use of color OS 13.1 skinned over Android 13. Oppo have also promised four years of major Android software updates and 5 years of security updates. Which isn't something you usually see from an Oppo device. So this is awesome to hear and to keep things running is a large 5000 milliamp hour battery. Which is optimized by oppo's battery health engine for a thousand six hundred charge and discharge Cycles. Which means that the battery will still have 80 battery health after four years of use, use oppo have also increased wide charging speeds this year bringing it up to 100 Watts. Which can apparently fill up its battery in just 30 minutes not to mention we still have 50 watt wireless charging, which can get your phone to 100 in just 51 minutes.
The find  Oppo Find X6 Pro also features a newly redesigned cooling system with a 24 large Vapor Chamber over its predecessor as well as a new generation graphite material to improve heat dissipation efficiency by 84 percent. This cooling system keeps things when running demanding apps or benchmark. So it's no surprise to see the Oppo Find X6 Pro top the charts in AnTuTu as well as receive heavy hitting scores in other benchmarks since it houses QUALCOMM's latest 4 nanometer powered Snapdragon 8 Gen 2 chipset up to 16 gigs of Ipdr5x RAM, with an option for additional 8 gigs of RAM expansive and up to 512 gigs of UFS 4.0 storage.
You would think with all these specs the Oppo Find X6 Pro would be able to play games at 120 hertz refresh rates but unfortunately in some games such as Real Racing 3 the device caps the frame rate to 60 FPS, even though it's more than capable of reaching such high frame rates. The good news is that when playing Call of Duty mobile it can achieve a stable frame rate of 90 FPS. Which other devices seem to cap at 60. And when playing more demanding games such as gentian impact you'll be happy to hear that we got a stable 60fps.
Thanks to the hyper boost gaming engine and Ultra steady frames feature. It's worth mentioning that this game is capped at 60fps on all devices regardless of the screen refresh rate. This Oppo Flagship also takes advantage of Bluetooth 5.3 NFC 5G and Wi-Fi 7 to ensure you're always connected to the world not to mention it also packs in a USB 3.1 type c Port an IR blaster an x-axis linear motor and  for an immersive Flagship level haptic feedback experience as well as dual stereo speakers one at the bottom one at the top which both support Dolby Atmos. So the Oppo Find X6 Pro is phenomenal when it comes to benchmarks and gaming but honestly those are all just extras since this device is all about those cameras.
So let's get started with selfie camera performance. The Oppo Find X6 Pro has a punch hole Notch this time at the top Center of its screen. Which utilizes the same selfie camera as its predecessor and even though it still uses the same sensor, it benefits from more advanced processing features, thanks to the new Qualcomm chipsets as well as next-gen image processing architecture powered by oppo's own made MariSilicon X imaging NPU.
So shots come out filled with detail fantastic color accuracy and superb Edge detection. When in Daylights what's up guys this is Technic recording a 1080p 30fps bokeh video on the brand new Oppo Find X6 Pro. You can switch from 0.8 X go up to 1x and all the way up to 2X. And here is regular selfie video where once again you can go from 0.8 X to 1x to 2X and all the way back to 0.8 X let me know your thoughts on the audios was the video quality.
When using the selfie camera on the brand new Oppo Find X6 Pro. It's great to see that you can seamlessly zoom in and out when recording using selfie cam but for such an insane Flagship camera phone, you would expect to get higher than just 1080p 30fps selfie video recording, selfies come out okay at night. They still look decent at times but tend to suffer from a washed out look. Which lacks in detail and has questionable Edge detection at times when taking pics at night. Selfies on oppo's least Flagship come out great in daylight situation and decent in low light situations.
But I'm not gonna lie the Oppo Find X6 Pro's greatest weakness is likely its selfie camera performance. That being said most chinese-made Android smartphones suffer from the same issue. They have incredible back camera sensors but when it comes to selfie photo and video they are on a mid-range level, not to mention that 1080p video on the selfie camera on a flagship device is just not okay that being said, the main camera sensors on the back of the sky. Not only mean that Oppo have outdone themselves here. But they have actually set a new standard for Flagship smartphone cameras because this thing has seriously outdone itself.
It has a triple 50 megapixel setup, which consists of two Sony IMX 890 sensors for the 15 millimeter F 2.2 Ultra wide camera and 65 millimeter F 2.6 telephoto Periscope camera both both have a 1 in 1.56 inch sensor size making the find X6 Pros Periscope sensor the largest smartphone Periscope sensor in the world and the Periscope and Main cameras both have Optical image stabilization.
The main sensor has an equivalent focal length of 23 millimeters,  it has an aperture of F 1.8 and is a massive 1 inch type sensor thanks to it being the Sony IMX 989 sensor. Oppo has explained this triple camera system as the three main camera ear since all three sensors benefit from the Hasselblad partnership maricilicon X Imaging npu and Snapdragon 8 Gen 2 CPU, which allows them to all deliver the same level of image Clarity light and Shadow handing and color accuracy. The Oppo Find X6 Pro takes incredible shots with its Ultra wide camera whether being in macro mode high res 50 megapixel mode or bend 12.5 megapixel mode.
The main sensor has slightly better color accuracy but matches the ultra wide on details exposure and dynamic range and its two times lossless Zoom looks just as sharp as the periscope's three times optical zoom, not to mention these six times hybrid Zoom options is unreal and even at 10 times digital Zoom things still look insanely detailed. There is a slight dip in quality When You Reach 30 times digital Zoom but it still looks better than any other phone out there at this level and it's crazy how even at 60 or 120 time zoom levels. You can still make out exactly what's going on using the Periscope with a 25 millimeter focusing distance, DSLR quality kicks in and of course we still have Hasselblad expand modes. Which make for some fun snaps. You can of course take portrait shots at 1X with the main camera thanks to that massive sensor size and Oppo did tell me that they plan to bring two times lost lassoon portraits as well in a future software update, but portraits come out the best when using the Periscope sensor at three times optical zoom. Which also has different Hasselblad Pro modes that make for some interesting filters.
There is also an option for portrait video when using the Periscope camera at three times Zoom. But it's capped at 1080P 30fps and you cal also shoot the same 1080p portrait video using the main camera. You can also use the main camera to record 10-bit HDR 4K 30 FPS Dolby Vision Video not to mention you can seamlessly switch between all three cameras when recoding continuous 4K 30fps video from the ultrawide to the main to the Periscope all the way up to 18 times digital Zoom.
You ca also record ultrawide video at a max resolution and frame rate of 4K 60fps it looks fantastic and is very stable but if you want to go all out stable there is also an ultra steady Pro mode which is insane even when running. There's also an ultra steady mode which uses the main camera and modes are capped at 1080p 60fps and of course you can also use the main camera to record 4K 60fps video but unfortunately there is no option for 8K video. I was surprised not to see a 4K night video mode option but recording 4K 30fps main video or ultrawide video at night still looks amazing. But there is a night mode option for photos which span from ultrawide all the way up to 120 times zoom and they all look just as good as when took the same shots during the day.
This camera system is extraordinary that 25 millimeter minimum focusing distance on the Periscope does wonders at Night 2 and portrait shots on the Main and Periscope sensors come out very good in terms of detail color accuracy and perfect Edge detection even at night. I guess it's safe to say that the Oppo Find X6 Pro is the king of all smartphone cameras when it comes to results from those back sensors in all lights and conditions and if that was the only thing going for it. You would still more than get what you're playing for but this thing has so much more going forwards and checks almost all the right boxes for a 2023 Flagship. I just really hope that it makes its way to the global markets.
So, that's all for today. To see OPPO Find X6 pro specification click here.
What is the price of OPPO Find X6 Pro?
The price of OPPO Find X6 Pro varies depending on the region and storage variant, but it starts around $899 USD.
What are the dimensions and weight of OPPO Find X6 Pro?
The OPPO Find X6 Pro has dimensions of 164.8 x 76.2 x 9.1 mm or 9.5 mm and weighs 216 g .
What is the display size and resolution of OPPO Find X6 Pro?
The OPPO Find X6 Pro features a 6.82-inch AMOLED display with a resolution of 1440 x 3168 pixels and a 120Hz refresh rate.
What is the processor and RAM of OPPO Find X6 Pro?
The OPPO Find X6 Pro is powered by the Qualcomm SM8550-AC Snapdragon 8 Gen 2 (4 nm) processor and comes with up to 12/16GB of RAM.
Does OPPO Find X6 Pro have a headphone jack?
No, the OPPO Find X6 Pro does not have a headphone jack.